Contact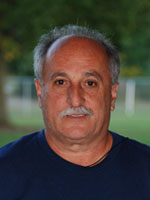 Coach | U8, U10 & U14 Boys
This email address is being protected from spambots. You need JavaScript enabled to view it.
Miscellaneous Information
Miguel's Expertise

ENYYSA D, E, F and NSCAA State Diploma
Divisiones Inferiores and Torneous de Verano Asistente Tecnico, Coldeportes Antioquia, Federacion Antiquena de Futbol, and Liga Industrial (Medellin, Colombia, 1976-80)
Liga Panamericana, Liga Estudiantil, and Superliga (New York, N.Y., 1986-92)
15+ years of coaching youth soccer for SWSC

Related Articles

Pending

Coaching Philosophy

Miguel is a key figure and driving force in the training and educational soccer program of the Club. He shares his experience and knowledge with players and coaches alike. Players of all ages are amazed by his hands-on and direct coaching style.

Favorite Soccer Memory

Pending

Favorite Soccer Team, Coach or Player

Pending

Just for Fun

Miguel is also an accomplished painter who sells his work locally. He was born in Columbia.