Contact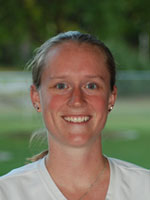 Coach | 10 Girls
This email address is being protected from spambots. You need JavaScript enabled to view it.
Miscellaneous Information
Stephanie's Expertise

USSF National "D" Licensed Coach
NSCAA State Diploma
Saratoga Springs Girls Modified Soccer Coach
6+ years of coaching youth soccer for SWSC

Related Articles

Soccer Qualifications

Licenses

USSF National "D" Licensed Coach - 8/2009
NSCAA State Diploma
Coaching Clinic with Mike Noonan (Brown Soccer): March 2008
NSCAA National Youth Diploma - West Chester, PA - March 2007
NSCAA Special Topics Course - Systems of Play: August 2007

Coaching Experience

SWSC Girls U10 Teams - Head Coach 2007 - Present
Saratoga Springs Girls Modified Soccer Coach Aug. 2011-Oct. 2011
West Point Girls Residential Soccer Camp Age 10-11 Field Director: 2005 - Present
Saratoga Springs Recreation Department Soccer Camp Co-Director August 2011
West Point Girls Soccer Day Camp Coach July 2011
Saratoga Springs Rec. Dept. & FTFA Big and Little Kickers Indoor Academy Head Coach Nov.
2010-Present (ages 4-8)
Saratoga Youth Soccer Club U17 Girls Assistant Coach: 2005 - 2006
Saratoga Youth Soccer Club U17 Girls "A" Head Coach: 2006 - 2008

Playing Experience

SWSC Women's League 2009-Present
Oneonta State Intramural Soccer: 2001 – 2004
Albany Alleycats: 1995 - 1999
Clifton Park Recreation Soccer program: 1989 - 2000
Shenendehowa HS Girls Soccer: 1996 - 1997
Clifton Park Travel Soccer Club: 1994 - 1995
Clifton Park Recreation Soccer Referee: 1998 - 1999

Coaching Philosophy

I bring a positive, cheerful and encouraging coaching style. The players feed off of her energy, enthusiasm, and experience/soccer knowledge to learn and understand this beautiful game.
I focus on player development at the U10 level. Players will learn technical skills such as passing, receiving, finishing, dribbling, 1v1 moves, and throw-ins. I also expose them to basic tactical aspects of the game such as goal kicks, corner kicks, defending, and ball movement. The players also receive basic goal instruction and exposure to all positions on the field.
I coach players as a whole person and teach not only soccer skills but life skills as well. I encourage team bonding through team trips to go bowling, tubing, and swimming.

Favorite Soccer Memory

My most memorable soccer experience was when my Independence Blue team was playing an indoor soccer game. This team was composed of players newer to soccer/travel and was working very hard on their own basic skills, team skills and confidence. During their game, it just clicked! Their passing, confidence and skill began working together and they took home their first win! As a coach, I was so proud to see my players have such success on the field, personally and together as a team!

Favorite Soccer Team, Coach or Player

Team- Chelsea, US Women's National Team and NY/NJ SkyBlue
Players-Mia Hamm, Christine Lily, Christie Rampone
Coach-Tony DiCicco

Just for Fun

Outside of soccer I enjoy spending time with my husband and two labs Jackson and Mia. We love to spend time outdoors walking, biking, and swimming. I also enjoy reading, relaxing and spending time with friends.